Here I share some of the resources of people who have inspired the work I do. Hopefully this will give you a feel for the approach I take in working with communities and organizations. The common theme is one of empowerment and adaptability. If you are interested in acquiring the books described below, just click on the images or links  to find them on Amazon.ca
Prosocial: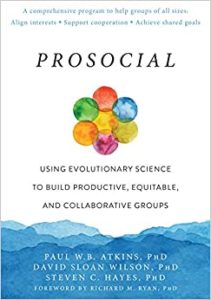 The Prosocial community provides a network of researchers and practitioners who are developing effective tools to transform our culture into a more collaborative one. Adapting evolutionary science from a DNA based perspective to a social perspective, we can see how organizations use variation, selection and retention to continue to evolve. They embed this process in Elinor Ostrum's eight principles for effective collaborative action and ACT tools to create the psychological flexibility needed to manifest them.
Facilitation: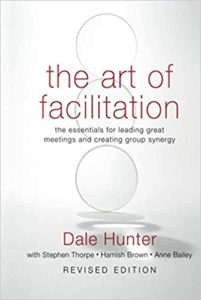 Dale Hunter and her colleagues at Zenergy Global are world leaders in training facilitators whose goal is to unleash the wisdom and power of the groups they work with. The Art of Facilitation is a classic in the field.
This book offers a framework and philosophy of facilitation, an outline for a training program, and a large set of resources and activities for facilitators.
Thinking: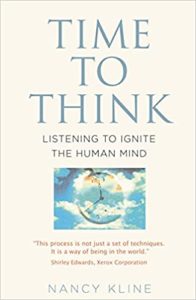 Nancy Kline has identified ten key aspects of what she calls the "Thinking Environment" – a space where people are free to unleash their creative thinking and planning. A unique aspect of her vision is that this is not a "self-help" process. It is a way of creating a thinking environment for the people around you: your actions empower them. More Time to Think is also available in print or as an Audio Book. See also Living with Time to Think and her web site, which includes a brief description of the ten elements.
Leadership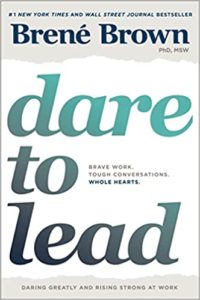 Brené Brown has taught us what it means to dare greatly, rise strong, and brave the wilderness. Now, based on new research conducted with leaders, change makers, and culture shifters, she's showing us how to put those ideas into practice so we can step up and lead. She has inspired school principals, business leaders, military brass and community organizers. This is a practical how-to book, full of useful strategies, and focuses on "power with", "power to" and "power within", rather than "power over".
ACT: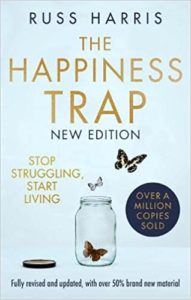 Acceptance and Commitment Therapy has had a profound influence on the understanding of the human condition. In ACT, six core processes give an understanding of how we can "Be Present, Open Up, and Do What Matters". It is a blend of mindfulness skills, opening up to challenging thoughts, feelings and memories, clarifying values and taking effective values-based action. Based on the philosophy of Functional Contextualism, it avoids focus on labels or symptoms and helps people move towards the life they want to live.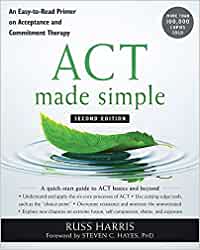 The second edition of ACT Made Simple is a great introduction to ACT.  Russ Harris has also written several books for the general public based on ACT principles. They are very accessible and provide some immediately usable tools and insights. Various topics include Confidence, dealing with dramatic life events, enhancing Relationships, and there is an illustrated version of The Happiness Trap.
Again, the underlying philosophy is one of hope and empowerment.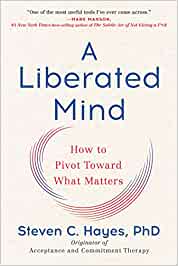 Stephen Hayes, the founder of ACT, has a new book that is highly recommended. A Liberated Mind: How to Pivot Toward What Matters The Liberated Mind. It is an excellent review of ACT history, theory, research and practice. It gives a very readable introduction to some of the underlying frameworks, such as Relational Frame Theory and adds some new thinking on what motivates us to move away from psychological flexibility. (Using motivation theory to dissect each of the six act core aspects.)
Community Psychology: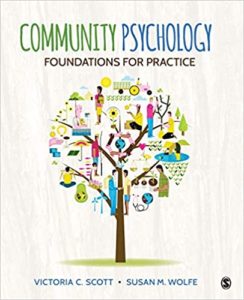 Since obtaining a Ph.D in Psychology from the University of Illinois at Urbana-Champaign, I have worked with a wide range of organizations and academic institutions to make practical impacts on communities to move us towards a more equitable future. I have been teaching Community Psychology at Mount Saint Vincent University since 2003. The Scott and Wolfe text outlining Foundations for Practice is the most succinct in detailing the skill sets a community consultant has to develop to be effective in this field. There is a free online textbook on Community Psychology and a second free one on Community Psychology Practice.
According to Jennifer Rudkin, there are 
Five Guiding Principles of Community Psychology
1. Research, theory and practice develop within a value system.
2. One cannot understand an individual without also understanding the many-leveled social context in which that individual lives.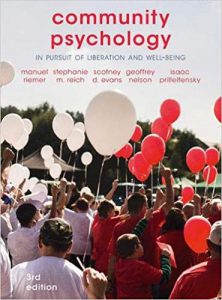 3. The perspectives of diverse groups, especially disenfranchised groups, must be honoured.
4. The meaningful improvement of people's lives often requires social change.
5. Research, theory and practice are best advanced through a strengths model rather than a deficit model.
Once again, the themes are empowerment, respect, hope and transformation.
An excellent exploration of how Community Psychology is tied to oppression and liberation theory can be found in Nelson and Prilleltensky's book.
Mindfulness and Heartfulness: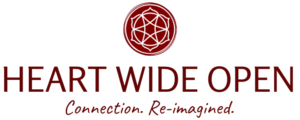 Collaboration with *heart wide open* has deeply added to my understanding of how to initiate cultural change in organizations and communities using a paradigm shift of how we approach issues in a mindful (being fully in the present moment with warmth, openness and curiosity) and heartful (doing what matters with kindness, courage and intention) way. 
Quakers: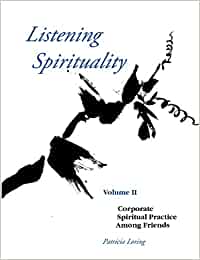 Growing up in the Quaker community, in various parts of the world, was what perhaps originally cemented my perspective on empowerment, social justice, and respect for diversity. Quakers believe that all people have equal access to spiritual truths, and do not proselytize their view as superior to any other. They also have no priests or hierarchy, and make decisions cooperatively, without voting. Patricia Loring's book gives an excellent overview of Quaker process of community building, discernment and values-based action.
Listening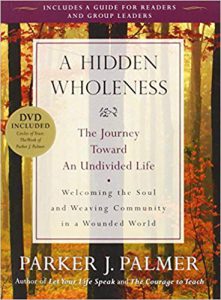 Alternative social spaces that foster connection and growth are a core practice in my work. I like to experience varied ways of creating these, including Parker Palmer's
Palmer describes in "A Hidden Wholeness" a form of community that fits the limits of our active lives. Defining a "circle of trust" as "a space between us that honors the soul," he shows how people in settings ranging from friendship to organizational life can support each other on the journey toward living "divided no more."